BIO: 
Vicki Lynn Wilson was born in District Heights, MD and currently works in Portland, Oregon. She holds a BFA from Pacific Northwest College of Art and an MFA from Portland State University, both in Sculpture. Vicki grew up in Virginia and, at age 16, began a three year apprenticeship to bronze and stone sculptor, Retha Walden-Gambaro. She attended Virginia Commonwealth University for a year of Foundation Art before moving to Oregon to finish school. After receiving her BFA, Vicki worked for theatrical prop and costume shop, Michael Curry Design , and was a member of Blackfish Gallery for 5 years. At Blackfish, Vicki curated the 2004 show "The Locals", and had a solo installation exhibit titled "Love in the Wild" (link to press) in 2006. Vicki's work has also been shown in Portland at Gallery Homeland, Froelick Gallery,  Tryon Creek State Park and the Portland Building Installation Space. Nationally her work has been shown in New York (Manhattan), Boston, Knoxville, and Scottsdale, Arizona. Vicki has been collaborating on public and private commissions with her husband, John Larsen , for over a decade. The team has completed several permanent installations including the Oregon Zoo and Main Street Oregon City. Vicki has been teaching Sculpture, Drawing and Design in Oregon colleges for the past 11 years and is currently artist in residence at Cub Creek Foundation in Appomattox, Va.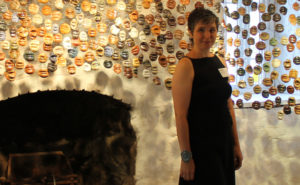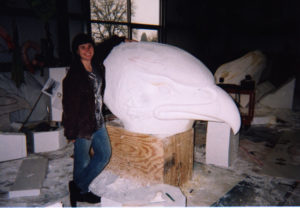 Photos: John Larsen
STATEMENT:
At age 16, I began a three year apprenticeship to a noted Native American bronze and stone sculptor, Retha Walden-Gambaro. This early experience continues to inspire my themes of nature, spirituality and the connections between all living things. Plants, animals, earth and stars become symbols for human experiences of all kinds. Drawing and painting are a part of my practice, but they are often studies for sculptures.
Vivid dreams were my first inspirations. While intense periods of dream memory come and go, I have attached meaning to certain symbols and colors so as to build an artistic language. As this language has matured, I have begun to navigate symbols with or without the inspirational dream impetus. It is the influence of the dream that led me to work in installation. When the piece calls for it, or when a specific place inspires me, I need to build the work around the viewer hoping that the space can transport them.
When I became an educator, I found a deeper relationship with materials. My success as a teacher is tied to my knowledge of each and all materials I cover. While trying to expand my knowledge, I began to experience the materials as metaphors. When wood burns, it releases its spirit. Clay knows its destiny from early on and will reveal it over time.
The work I am currently engaged in focuses on the figure in clay but I always reserve the flexibility to introduce different materials as needed. The figure has always been a part of my installation and sculpture practice, but I see the body as a pedestal; an inert support for a material investigation. The figures I make are a projection of myself under the influence of a metaphor.